When Should You Take the SAT?
The SAT is offered nationally seven times each year, in March, May, June, August, October, November, and December, usually on the first or second Saturday of the month. The test dates are usually grouped by academic year, so the 2019–2020 SAT testing year dates are from August 2019 to June 2020. See the current SAT test date schedule for the exact dates. Registration opens for each SAT test year in mid-April.
We recommend taking the SAT for the first time in the spring of your junior year so you'll have an opportunity to take it a second time in the fall of your senior year before college application deadlines if you decide to.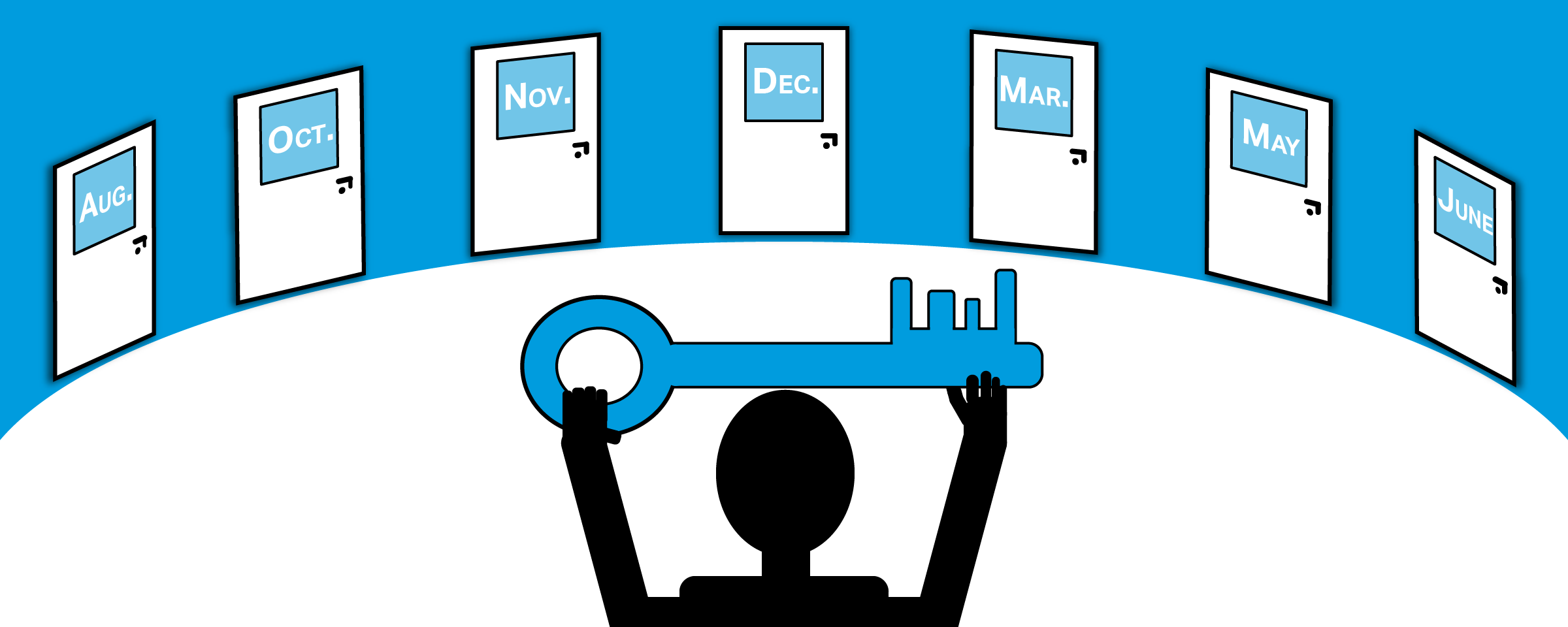 How to Choose the Right SAT Test Date for You
The best strategy always involves planning. Since registration for the test year opens in April, you should think about selecting your ideal testing date as early as spring of your sophomore year. Key factors to consider:
Test center locations
Personal schedule
Practice time
Chance to retest
College application deadlines
Let's look at these one at a time.
SAT Test Center Locations
The SAT is administered at thousands of testing centers across the country, often high schools or colleges. However, not every test center is open for every test date and they don't offer the same number of seats.
Students often feel most comfortable taking the SAT in a familiar location, like their own high school. Check to see if your school is a test center and if so, which SAT dates it offers—this may determine the date you choose. If your school isn't a test center, you may want the location closest to you and that location may only offer the SAT on certain dates. You can find SAT test centers using our online search tool or The SAT and SAT Subject Tests™ Domestic Code List, which details all test centers and test dates.
Personal Schedule
You'll have a lot of stuff going on in your junior and senior years of high school. There may be SAT dates you can eliminate because of personal commitments like a family wedding, vacation, or sporting event.
If you're planning to take SAT Subject Tests, those are given on the same dates as the SAT but you can't take both on the same day (though you can take up to three SAT Subject Tests at one time).
The College Board coordinates every year with the ACT® to make sure it's never offered on the same day as the SAT, so that's one conflict you won't have to worry about.
Practice Time
To do your best on the SAT, you'll need to set aside some time to practice. The more prepared you are, the more confident you'll feel as you approach your SAT date.
Setting aside time to practice may be a factor to consider when you're selecting a test date. It might be easier for you to practice in July and take the SAT in August than to practice in September for the October SAT. It all depends on your schedule and study habits. Most students study during the 2-3 months leading up to their SAT. You can set up a practice schedule that works for you on Official SAT Practice and opt in to practice reminder emails to help you stay on track.
Here are a few quick links to get you started with your SAT prep:
Chance to Retest
Many students take the SAT for the first time in the spring of their junior year. At that point, you've got nearly three years of high school coursework under your belt so you're well prepared, but you still have plenty of chances to take the SAT a second time if you choose to.
By taking the SAT a second time, you get to prepare by focusing on specific areas you need to work on most, and you've got the advantage of knowing what to expect on test day. The dates in August, October, and November are popular for retaking the SAT before your college application deadlines.
So pick dates that are right for you and register here. If you have more questions, check out our help page.
College Deadlines
Ultimately, you'll send your SAT score to colleges you're applying to. This means you need to be aware of their admission deadlines and make sure there's enough time to send your score before the cutoff date. Typically for a high school senior, regular decision deadlines are in December or January and the most common early action or early admission deadline is in November. Scores are usually available a few weeks after the test date and some time is required to send them to schools.
When Should You Register for the SAT?
Once you've selected your ideal date, the next step is registering online for the SAT. You can do that starting when test year registration opens in April until the deadline for your test date.
If there's a test center and date you really want, it makes sense to register early and guarantee your seat—some test centers fill up and that could force you to choose a different date and location. This particularly applies to international SAT test takers, as certain countries have a limited number of test centers and seats.
Late and Waitlist SAT Registration
Some students don't want to commit to a test date until it's much closer. Every SAT administration has a regular deadline and a late deadline. The regular deadline is roughly six weeks before the test date and the late deadline is roughly three weeks before the test date. There's an extra fee for late registrations (currently $29). The later you register, the less choices you may have for your testing location.
If even the late registration deadline has passed, you can request SAT waitlist status. You still need to do this at least five days in advance of the test date (you can't register at the test center) and there's no guarantee you'll get a seat, but it gives you a chance. You'll need to register online and choose a single test center, then bring your waitlist ticket on test day. It's first come, first served.
Changing Your SAT Test Date
If you change your mind about your SAT test date after you've registered, change to an alternate day by paying a change fee (currently $29). Changing your test date means you may also need to change your test center as well.
SAT School Day
Many states, districts, and schools participate in SAT School Day, which lets you test at your school during school hours on dates in October, March, and April. Ask your counselor if your school administers the SAT on a school day.
If you'll be taking the SAT once on an SAT School Day, you can still take it a second time during one of the national Saturday test dates.
When to take the SAT can be an important decision and one that takes some planning. Now you have the information you need to choose the SAT test date that's right for you. And you can register for the SAT right now.