Free Resources to Prepare for AP Exams
2021 Exams: If you're registered to take an AP Exam this year, be sure to check in with your school to find out when and where you'll take your AP Exams this year. To learn more about the exam formats and the schedule your school can choose from, go to our website.
Getting ready for your AP Exams? 
Ask

your AP teacher about plans for review and how you can use your previous assignments and coursework to prepare.

Click on the

About the Exam tab on any of the

AP Students course pages

to learn more about your course's exam.
Take another step closer to earning college credit, placement, or both by checking out these free, online resources to help you prepare for your exams:
AP Daily Videos
Continue building your knowledge and skills with AP Daily videos. Watch these short videos taught by expert AP teachers to review all the content and skills that will be assessed on your AP Exam this year. Log in to AP Classroom to get started.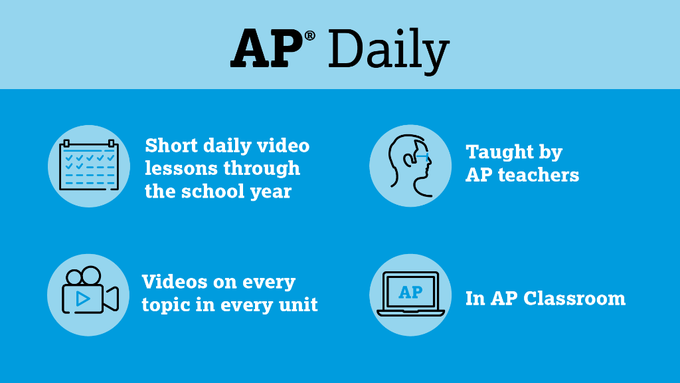 AP Classroom
Get feedback on topic questions and personal progress checks assigned by your teacher. Use your progress dashboard to stay on track with your AP course. See tips for getting the most out of AP Classroom.
Live Online AP Review Lessons
Mark your calendar for the launch of new AP review lessons. These lessons will go live on YouTube, starting on April 19. They'll be recorded, so you can watch them on AP Classroom anytime, anywhere.
For updates on the exams, click here.